At Microsoft these days, it seems to be: "The answer is Azure. What's the question?"
Microsoft's cloud computing platform was front and center as the company's Ignite developer/IT event kicked off this week.
Azure-related announcements during the opening stages of the three-day conference — shifted to an online format during the COVID-19 pandemic — ran the gamut from the debut of the Azure Communication Services platform to security innovations to enhancements to Azure Arc, a Kubernetes-based platform that enables the deployment of Azure data services, announced late last year.
Showing just how strongly Azure is being represented in Ignite 2020, Scott Bekker at Redmond Channel Partner provided this roundup of generally available services and products
Additional features for Azure Cognitive Search called Private Endpoints and Managed Identities.
An Anomaly Detector in Azure Cognitive Services, Metric Advisor.
A new Designer capability for Azure Machine Learning featuring drag-and-drop modules for things such as data prep, model training and evaluation.
New Azure Migrate features for datacenter-to-cloud migrations.
A next generation version of Azure VMware Solution (AVS) in US East, US West, West Europe and Australia.
Two new Azure Stack Edge appliances, including one designed to be carried in a backpack.
Azure Virtual Machines featuring Intel Cascade Lake processors.
Azure Disk Storage updates, including Azure Private Link integration and support for 512E on Azure Ultra Disks.
An Azure Policy add-on for Azure Kubernetes Service (AKS).
Noting that Microsoft is putting Windows and Linux servers under Arc, Bekker wrote, "Customers managing Azure services use Azure Resource Manager. For those who like the model and want to use similar tools and capabilities to manage more of their infrastructure, there's Azure Arc, which extends the model to other clouds, Kubernetes clusters and on-premises servers.
"As of Ignite, Microsoft made Azure Arc-enabled servers generally available for Windows and Linux servers. From a single control plane, customers can now manage their servers with Azure Policy and use Azure Security Center, Azure Monitor or Update Management on them."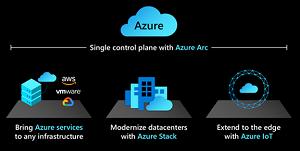 Microsoft presented the Arc news in the context of the cloud platform's "multi-cloud, multi-edge hybrid capabilities." Also within that context, the company provided more details on some of the above and other products and services via a blog post:
Enhancements to Azure Stack HCI and Azure Stack Hub:Azure Stack HCI is a new hyperconverged infrastructure OS delivered as an Azure service in order to quickly provide security, performance, and feature updates.Azure Stack Hub, a component of the Azure Stack portfolio, lets organizations run apps in an on-premises environment and deliver Azure services in a datacenter.New for these two offerings are:

Preview of Azure Kubernetes Services (AKS) on Azure Stack HCI: "This now provides a consistent, secure, and fully managed Kubernetes experience for customers who want to use Azure Stack HCI within their datacenters."
Azure Stack Hub is now available with GPU: "To power visualization intense apps, we've partnered with AMD to bring the AMD Mi25 GPU to Azure Stack Hub, which allows users to share the GPU in an efficient way."

Azure VMware Solution hits GA: "Designed, built, and supported by Microsoft, Azure VMware Solution is cloud verified by VMware and enables customers to migrate VMware workloads to the cloud with minimal complexity."
Running compute and AI at the Edge:New capabilities for the edge (bringing computation closer to the location where it is needed, on edge devices) include:

Azure SQL Edge is now GA: "Bringing the most secure Microsoft SQL data engine to IoT gateways and edge devices. Optimized for edge workloads, this small-footprint container supports built-in data streaming, storage, and AI in connected or disconnected environments."
New Azure Stack Edge rugged devices: "Customers can perform machine learning and gain quick insights at the edge by running the Azure Stack Edge Pro R with NVIDIA's powerful T4 GPU and the lightweight, portable Azure Stack Edge Mini R."
Azure Stack Edge is now available with GPUs: "Customers can run visualization, inferencing, and machine learning at the edge with the Azure Stack Edge Pro series powered by the NVIDIA T4 Tensor Core GPU. This unlocks a broad set of new edge scenarios, such as automatically recognizing license plates for efficient retail curbside pickup, and detecting defects in real time in products on a manufacturing assembly line."
AT&T cellular-enabled guardian module with Azure Sphere: "AT&T and Microsoft are teaming up to enable enterprise customers to connect their machines and equipment securely by Azure Sphere guardian devices to the cloud seamlessly via AT&T's cellular network, without needing to rely on Wi-Fi systems." More on this is available here.
Microsoft also announced Azure Communication Services in preview, which it claimed is "the first fully managed communication platform offering from a major cloud provider."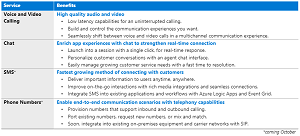 This lets organizations build communication experiences — ranging from voice/video calls to chat to SMS text messages — via APIs with the same platform used by its meeting/collaboration offering, Microsoft Teams.
The company said it helps developers bring those services to mobile apps, desktop applications and websites with just a few lines of code.
"Developer friendly APIs and SDKs make it easy to create personalized communication experiences quickly, without having to worry about complex integrations," Microsoft said. "These capabilities can be used on virtually any platform and device."
As far as the aforementioned "security innovations," the company announced:
New branding experience, additional protections, and CyberX integration for Azure Defender.
User and entity behavior analytics and threat intelligence for Azure Sentinel.
Multi-cloud security posture management for Azure Security Center.
Managed hardware security module for Azure Key Vault.
Expanded security control assessments with the Azure Security Benchmark v2.
Additional service support for Customer Lockbox for Azure.
Double Encryption for data at rest and transit.
For AI on Azure, Microsoft announced a new spatial analysis capability for Computer Vision Azure Cognitive Service. "Its advanced AI models aggregate insights from multiple cameras to count the number of people in the room, measure the distance between individuals, and monitor wait and dwell times," the company said. "Organizations can now apply this technology to use their space in a safe, optimal way."
Also highlighted was Metrics Advisor, another new Azure Cognitive Service in preview that the company said helps organizations proactively monitor metrics in order to quickly diagnose issues as they arise, with no machine learning expertise required.
Microsoft said this is made possible by a combination of real-time monitoring, auto-tuning AI models, alerting, and root cause analysis.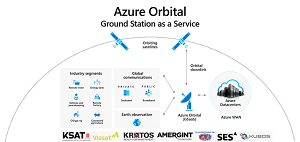 Also announced in preview was a satellite ground station service called Azure Orbital, which enables satellite operators to communicate with and control satellites while processing data and scaling operations directly with the cloud platform.
With all of the above and much more being disclosed right off the bat at Ignite 2020, Microsoft is reaffirming the importance of its cloud platform. Stay tuned for more Azure news from the event, which concludes on Thursday.
Reference: https://virtualizationreview.com/Articles/2020/09/22/azure-ignite.aspx?Page=2